source taken from
http://boards.strati...b=5&o=&fpart=1'
> UO U.HAll
Here is a list of the quest rewards from the new Haven quests.
Some of them are very useful, especially to newer players.
Tunic of Guarding - From Andreas Vesalius the Anatomy Instructor
Philosophers Hat - From Gustar the Meditation Instructor
Arms of Armstrong - From Alden Armstrong the Tactics Instructor
Bracelet of Resilience - From Alefian the Resisting Spells Instructor
Bulwark Leggings - From Aelorn the Chivalry Instructor
Gloves of Safeguarding - From Dimethro the Wrestling Instructor
Healers Touch - From Avicenna the Healing Instructor
Jockles' Quicksword - From Jockles the Swordsmanship Instructor
Ember Staff - From Kaelynna the Magery Instructor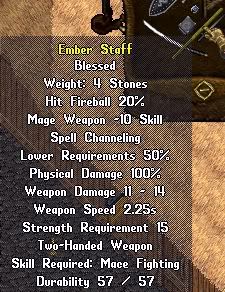 Hallowed Spellbook - From Jillian the Inscription Instructor
The Dragon's Tail - From Hamato the Bushido Instructor
Clasp of Concentration - From Sarsmea Smyth the Focus Instructor
Churchill's War Mace - From Churchill the Mace Fighting Instructor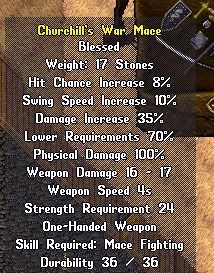 Escutcheon De Ariadne - From Tyl Ariadne the Parrying Instructor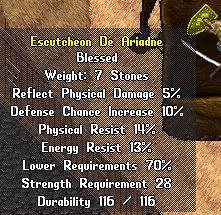 Ring of the Savant - From Mithneral the Evaluating Intelligence Instructor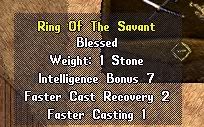 ~~~~~~~~~~~~~~~~~~~
Nice. Now if only we can get some end-game level quests for high level players too. =]
~~~~~~~~~~~~~~~~~~
Oh wow... very nice. One complaint. No fencing weapon?
~~~~~~~~~~~~~~~~~
Leurocian Ultima Online Designer
There are more quest givers to come. Fencing, Archery, Blacksmith guildmaster and quest givers, and Ninja and quest givers (the tracking guy is my favorite. heh. You'll see what I mean later on that one...).
and
why 2 swords but no fencing/archery/ninjitsu items?

Coming soon ™ to a New Haven near you :>
and
I bet these quests aren't repeatable are they heh.

No. Only once per character.
and
************************************************************

WARNING WARNING

************************************************************
I did the spell book quest tonight and Un known to me with all the things in my bag even tho i didnt get an over the weight limit message my bag was full .. when i clicked Jilian she dropped my book on the floor and some one picked it up .. I checked my bag the packie bag and the bank .. the book was gone .. I paged a GM THREEEE times ... and got canned answers everytime ... So I had to go back with another toon and do it again this time making sure it wasnt full just to get one book for the quest I did 2 times .... Its almost making me not want to do any of the others ... for fear of this happening .... When I dont have alot of skill points to play with that im making tweaks just to get up to 50 and then drop down again ...

Just thought Id pass this along becuase they will not replace it ... and I did not get the first book I did ...

Thanks for the heads up Emma. I'll report this to the team. This sounds like an old bug with the quest system where items will drop to the ground if you are overloaded. I'll see what we can do to fix this. Really sorry that happened to you.
~~~~~~~~~~~~~~~~
...

More to come...

Hrm...

Dare I hope that this is going to be a town by town revamp to spread such quests throughout the world and maybe move AWAY from random pointless NPCs to something that feels a little more like a working civilization?

Just wondering on what the broader goal of this might be
~~~~~~~~~~~~~~~~
That would certainly be a possibility. I can't say much about that right now because Darkscribe would feed me to the Servant of Semidar. For even Darkscribe is more powerful than Leurocian Malnagrane, High Archmage and Traveling Bard.
~~~~~~~~~~~~~~~~