taken from Thread :- What are you devs trying to pull?!
found in UO.UHall


Watch me completely ignore that this is spoilers!
I checked out the batch of screenshots someone linked to in the Abyss topic..
WHAT THE HELL IS WRONG WITH YOU GUYS?!
You say you want to get the game back to Ultima lore but you add
THIS???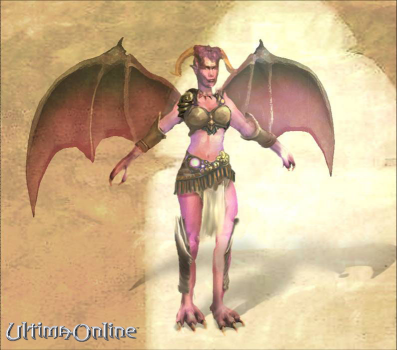 THERE ARE NO FEMALE GARGOYLES IN ULTIMA!
There was
ONE
in Ascension but
THAT
was a last minute addition with the story change!
DONT YOU DARE
think you can use this one!
Gargoyles in Ultima are all male and dont truely understand the male/female distinction. They were purposefully made ambiguous and never had how they reproduce explained.. no females.. no eggs..
NOTHING!
Hell, even the
JUKA
have no females!
You guys
WANT
to see the Ultima purists get angry and leave? Put this in. Otherwise I suggest you open up a dialogue with the players about it and cut the damn things from the expansion and never,
EVER
think about pulling this [censored] again! I don't care how many months of work and pieces of armor and art that means losing, you should have thought about that
BEFORE
you made a decision this dumbassed! Take out the females and make the two options Winged and Wingless gargoyles, just like it
SHOULD
be.
I defended you guys for so long, and
WANTED
to believe the dev team has changed... but then you do this?! I'm sorry I was
EVER
nice to you guys!
###########################
I have to be totally honest with you here, I said a few times in other threads that I wanted gargoyles and not dwarves, but that I would not make a new char as either. The main reason for this is that 1) I hate dwarves and 2) I thought like you did that gargoyles would all be male/neuter. I still won't EVER make a dwarf, but if they have female looking gargoyles then I MIGHT consider making one. I don't have any male or male-looking chars and I am not going to start having them now just to get a char of a new race. Sorry if you are offended, but I am just being honest, I imagine quite a few other people might consider making a gargoyle char if they have both sexes.
############################
Dont worry, i'm not offended at all. I can understand some people liking it.


However, I can see just about all of the true Ultima purists leaving because of this, and thats a good chunk of whats left of the UO playerbase.

At the very least they better add a toggle to have female gargoyles or not. That I could live with. Have an option to switch all of the female gargoyles switched with typical ambiguous wingless ones, and don't promote the female ones as a selling point or use them on splash screens or promo art or such.
############################
Succubi maybe?
############################
No, it isn't. It's a perfect compliment for the other gargoyle image.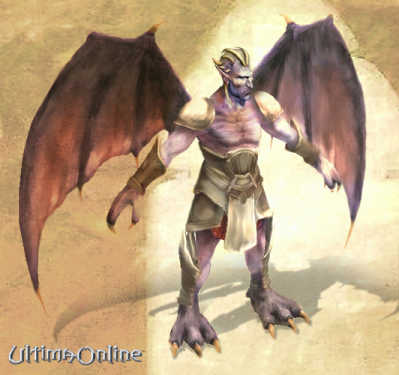 ############################
I can truly understand why you are upset Crysta, it is for the same reason that I wanted gargoyles and not dwarves to be the new race. They just seem more in keeping with the game. I do think from those pictures though that they are keeping them pretty much as they should be and they look great! Why don't you just make a male one? There is nothing at all stopping anyone who wants to reolplay a proper gargoyle from just making their own chars male only, whether they themselves are a male or female player.
###########################
sorry, to disilluson you , but yes the juka have females, they are called mages, they have been female since before lbr, so female gargoyles are not that great of a leap.
##########################
Y'know I was about to say you were wrong, but I gotta concede defeat on that one. I forgot, there WERE Juka females. The novels they released based on the UO2 timeline STARRED one.

OK then, remove Juka as an example. I'm still not changing my mind on the other ones. They don't phaze me as much considering their original story, really. Not to mention they don't seem to be gargoyles anymore in the current UO because a certain dev decided to add them into the Reptile slayer category and ignored all persuasions to change that.
#########################
There is nothing at all stopping anyone who wants to reolplay a proper gargoyle from just making their own chars male only, whether they themselves are a male or female player.


I have to agree here mostly.

I have always ' percieved ' Gargoyles to be male,not that ive studied their pixel in enough detail to find out * grins* ,but I can also see the Dev's reasons for including a female species.

Some players dont play opposite gender,agreed,and imo if anyone currently roleplayed a 'Gargoyle' it would be up to them to define its gender ,by their Roleplay style,and paper doll profile.

However ,on the other hand ,if the whole idea behind recent/future implementations,are a move to get back to origin UO lore and specifics,then I have to agree with Crysta,dont include things that werent there at the start.

If this new expansion is re creating the Abyss etc,then the above female definately has no place,from whats been said.

I however,will not stop playing UO theres just FAR too much else thats new, refreshing,and 'to look forward to ' for me personally,to desert it now.

I imagine the controversy over things [ like the OP opinion], was much the same feeling when they introduced elves to the game.

Many beleive they have no place in UO either,but I guess diehard UO'ers,will just integrate things like this into their gameplay.

For me ,personally, the worst expansion they introduced was the Samurai one,I just cant still to this day see the connection,to anything Ultima, as 'ninja' style warriors leaping out of no where to attack us.

The only thing that would stop me playing though is if the current speculation on specs,proves correct and means I cant play it on my pc.