taken from Thread :- Can we please fix ingame support?
found in UO.UHall

ummm... so most people know some stairs are bugged where you can not get up them no matter what you do... well, I sat at one stairs for close to an hour trying to get a gm to help me.

My help stuck is broke and when I click help stuck it does not give me an option to select a city. I have had this happen a few times before, and each time a gm had to come fix it. This time I sent over 8 requests... each time I got a canned response.

In the screen shot you will show a statement i sent them. Now I sent 2 very detailed tickets that were denied... on the 3rd time it was becoming frustrating so I didn't make it as detailed... but it still got the point across. At the time we had 6 people on for a harrower raid and after close to an hour of fighting it finally finished. My guild logged off for RL activites, but not before we were stuck down there lol, other wise I would have had someone get me.

So I ask you EA... can we fix ingame support? After an hour of trying I finally got a guildmate to log on and get me.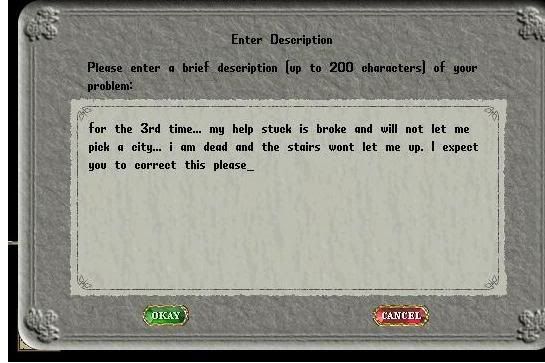 ummmm.... there is no way out! There is only one exit and this shard does not have a tele like most shards do.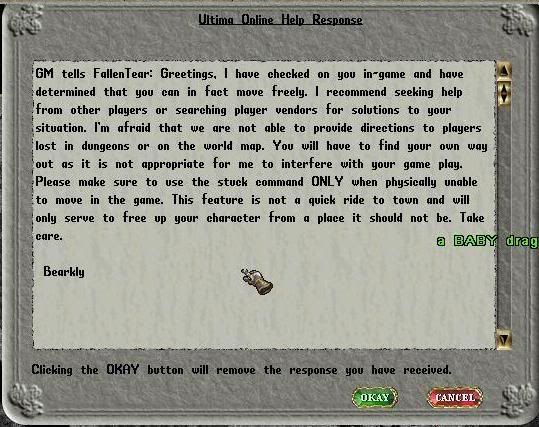 This last pic shows me finally out rescued by a guildie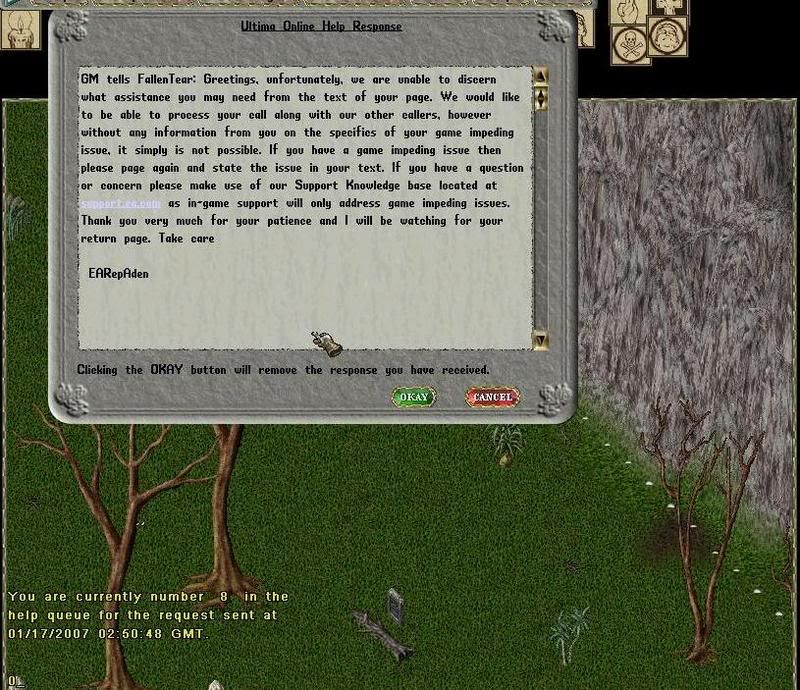 ###########################
How many years have those stairs been bugged for dead players? Only way out of the dungeon!
############################

Well, it looks like the number 6 issue may have been resolved
~
So, maybe they're working on it as we speak?
############################
I have not tried this yet but I read recently that if you log off then on again you can then use the stairs as a ghost. I'll have to test that. I can always self rez and get out if I have to.
############################
A simple teleporter might help.

As advice to get it fixed I suggest that lots of people continously page about it. They try to keep those helpcalls down and if many people call about the same thing it rises in priority.

Is lame but the only thing ea seems to understand.
############################
WE have in game support??? what expansion was that added??? So confused I thought we just had a bunch of guys drinking coffee hitting hot keys.

Seriously though the messages you got are just plain offensive. They cant discern the problem from your text?? what they didnt read it? Other aspect any CS that is in game or helping players in game should be aware of some of the more common ancient bugs that stop game play. Like those stairs, not like its anything new and been paged about a million times.
###########################
at least on europe, ingame support was available this nite. i was stuck on no. 7 in the queue for a while, but then GM *dont dare to say name* showed up, offered her/his help in different ways, letting me choose one solution, solved the issue, thanked for interacting with him, gave me a very polite farewell and left.

ok, i have to confess, it was not the issue with the stairs you are talking about and i had to wait app. 45 minutes for the gm to show up, but well, problem was solved and we all left happy , so it seems not fair to me to generally speak of ingame help beeing not available.
##########################
OP

lol so true everyone... maybe I should have put... "Can we add ingame support?"

Here is what happens to break your help stuck option... at least with my latest one.
- I raided a harrower and was killed. I waited about 5 minutes to uncrim once I was stuck at the stairs. I thought I waited long enough to uncrim so I hit the help stuck option. I got the message "You are unable to do this because you are a criminal," or real close to that message. I waited a few more minutes and tried it again. This time I got the message "You will be teleported shortly, the more you use this feature in 24 hrs, the longer it will take," or very close to this. It's very possible I had some rouge EV's or para field still up that someone hit and reset counter.

Now my character was able to freely move around with out being frozen in place like normal. The select a city option also did not show. I tried this several more times with the same results... now I know it is broken. I tried logging out several times and even closing out game with the same results. It was official, I was really stuck with no way out and my help stuck feature was broken... so I choose the longer process and use the other option under help and had to page over 8+ times.

Now, It wasn't a big deal I was stuck down there at first since I might have broken the timer on accident (something that needs fixed by EA), I was more frustrated with the time it took to get a response and more importantly the responses I got saying there was nothing they would do.

So Jeremy, or EA, care to offer some input as to why I was not helped... at a minimum, moved above the stairs?
#########################
Same story differnt day......



We raided another harrower today in the same spot... help stuck is stil broken after 16 pages.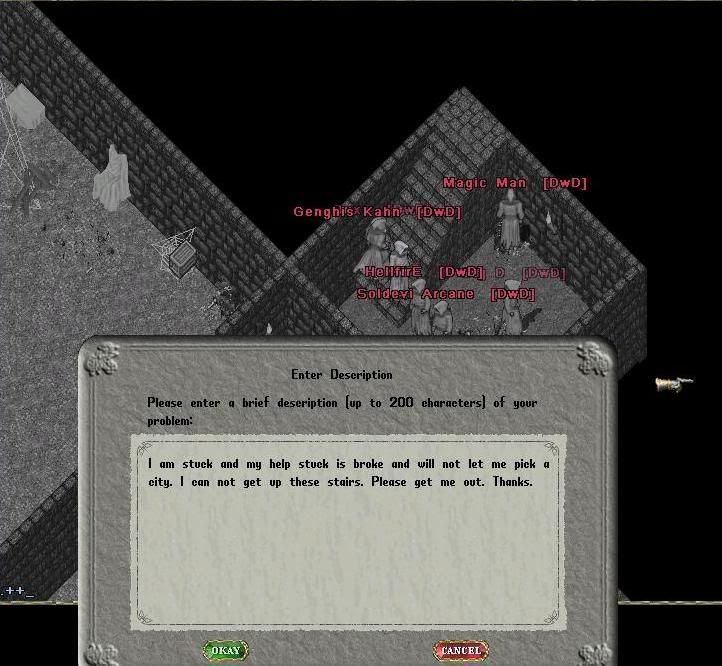 No GM showed... but I did get this nice message I just wish a gm would have done anything for me to review. No GM showed... and they didn't even leave a name for me to review.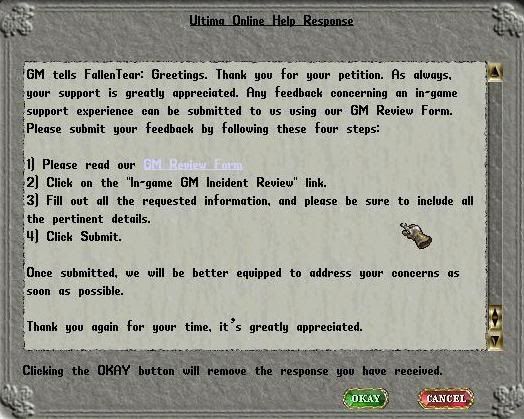 If you are not going to fix my help stuck (and others) can we at least get a tele in this location? Thanks.
#########################
Jeremy_EAMythic UO Community Coordinator
Fallen, can you tell me which shard this was on?
#########################
Do you think you could send somebody to every shard and check those stairs to make sure there is a way up on both facets?
As well as that spot in the second level of Wrong that you can fall in and get stuck by the stairs?
And... umm... I know there are a bunch of other GM-fixed locations on shards... but I can't think of them right now (want to have a QA person go through the bugs I've sent in over the years and have them pull out the map glitch bugs I've sent in the past and send them to me so I can send them back? ).

I could try to get coordinates of the locations I can think of later if that would help. And I could bug-report them all (again) if that info would be useful there too.

I guess generally speaking, should map flaws get bug reported now? There's been the rumor going around that with KR is a re-make of the map... so things that aren't game stopping but just ugly or slightly annoying would be a waste of time to report if the entire map is being re-done.
#########################
This is a client-side map issue that affects both facets on every shard. Most older shards have teleporters placed by gamemasters on the Felucca facet which teleport you up the stairs.

Another location which has this issue is the stairs in Vesper Cemetery which lead down into the T2A passage. Ghosts can not walk up that one either.
##########################
And jhelom pits
#########################
And stairs to SL underground ent
##########################
Jeremy in game support is still very very bad.
We are still waiting over an hour (if not more) for poor answers to pages.
Still getting caught in the endless #6 queue.
Our service may not have been the greatest "before the merge" but it sure wasn't like this.
Please help us.
########################
[Poor Jeremy,seems she has hit her first shard wise biggie issue to deal with. If anyone here has any known 'bugs' of this type,maybe add them here and then I will see they get her attention also,unless you want to go to the original link and add them yourselves
...tabbitha]
~~~~~~~~~~~~~~~~~~~~~~~~~~~~~~~~~~~