From the great walls of Castle British, to the worn sandstone of the Lycaeum, the knowledge and writings of Sosaria have been a focal point in the evolution of our society. Each stroke of quill on parchment, each word etched into paper is a marker of our past accomplishments, deeds and imaginations.
With such importance stemming from these words, scrolls, and books, the buildings and shelves that hold our past and future should reflect the time and devotion the authors themselves put into their works. With this in mind, the Grand Britannian Repertory has undergone an extensive and revolutionary reconstruction.
Dozens of changes have been implemented in the new library design, ranging from over 1,500 alphabetized and color coded books to vastly improved quality and categorization.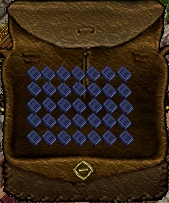 The Grand Britannian Repertory has now reopened its doors to the community. We invite everyone from all walks of society to come view and add to Atlantic's history and lore. The Repertory is located along the north eastern wall of Zento, it may also be reached by teleporter through Goodman's Teleporter Nexus, Winterbreeze Library, or through the Warden of the Abyss house in the depths of the Stygian Abyss.
For more information on The Grand Britannian Repertory and its location, please see this article located
here
.