The Battle of Trinsic – A personal perspective
Times had changed. The old soldier decided it was time to test the strength he had left and take some positive action. Trinsic was overrun with evil spawn somewhere east of the Keg and Anchor. Callum of Clan Fitzhugh of the Shadow Court was going there for death or glory – and maybe a little of both. Meeting up with another Shadow Court veteran Salazar a grizzled archer of repute who had kept Callum alive many times as a callow youth they exchanged mean pleasantries and were about to depart when an old face appeared.
Lyim Rashidat – back from god-knows-where and looking not a day older. Lyim was many things but a coward wasn't one of them. He mounted up and as Callum directed "Ride!", Salazar added "Like the wind" and they set off toward the maelstrom.
Arriving at the scene of carnage Callum noticed the Knights Hospitaller were there already and some others. Some were crawling back from the "front" bloodstained and injured to be healed by the waiting Hospitallers – although at times their station was also over run and we had to retreat further.
Many times Callum did find himself sucked momentarily from body and looking down upon it – Alynora tells him he has no lives left to give and so the taste of danger is all that much more enthralling. This time there is no return and no escape from the Land of the Dead.
Jordan Jurrel appeared and seemed intent on chatting with the gathered defenders of Trinsic and Callum rode up to him and chided him for his procrastination and so the blonde-haired one led the battle.
The Bloodguard came, Duchy Troops came, The Elves came and the Shadow Court came – Hayt, Callum, Salazar, Cherry, Bertrand, many came and shed their blood on the streets of Trinsic that night and many were proud to say they were there. There were even Drow there and many other warriors and a strange animal which healed Callum more than once.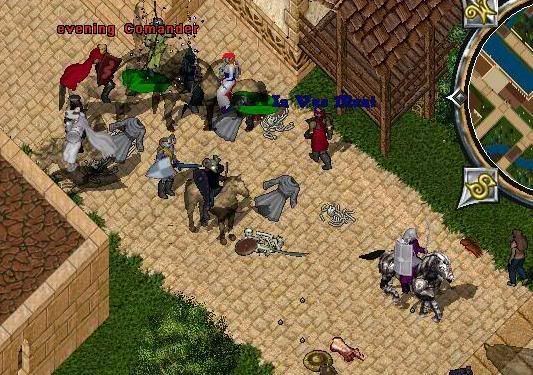 Finally Jurrel seemed to be able to push back the darkness which was spawning from this crater and the bridge was finally reached and Callum did stand upon guard at Jurrel's side as did many that night. There were many heroes fighting and not all names are known to this writer and so I must record this for posterity and I ask any who were there to give their own reports.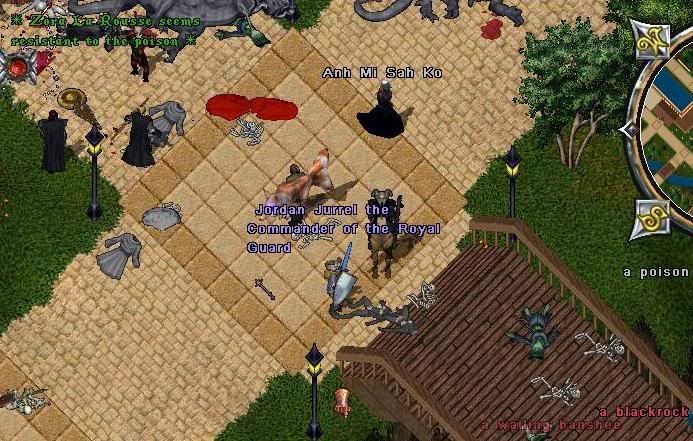 Callum finally seemed to need to feel the wind against his skin and to ride one last time for death or glory. He stripped down to his Clan Kilt, patted the neck of his grandfather's long dead horse and sucked in some breath to calm the fears in his heart.
He leant down and whispered into the ears of his horse "Tis a good day to die" and he could almost hear Ra Karn Moon's answer "Aye , die well" drifting like a ghostly message across the space of the years.
Callum looked up to the skies and smiled a deep smile of happiness and contentment the wind on his aging chest and his heart pounding as his steed picked up more and more speed its ethereal hooves cracshing against the cobble-stoned city of Trinsic.
This was what he needed the wind in his hair and a horse and …
"Death or Glory" Callum shouted as he crashed through the first wave if evil looking around he headed toward the crater and felt a sickening thud as his horse carried him to the craters edge … and then inside …