The Score:
As part of a larger exercise and investigation of certain mechanics I am hereby proclaiming a challenge to any and all members of the community. This challenge goes out to any mage who thinks they will be able to kill a (particular one of my) Hanse Davion, who is using a relatively straight-forward and inexpensive dexer template. To encourage participation from the outside there will be a range of fabulous prizes on offer, set in three tiers to allow rich and poor alike to potentially earn prizes. Each tier has a challenge fee, proceeds from which I will be spent providing newbies / young players in the game with a helping hand getting started. The challenge fee and prizes per tier are as follows;
Tier 1: 50'000 gold entry, 100'000 gold prize
Tier 2: 100'000 gold entry, 200'000 gold prize
Tier 3: 1'000'000 gold entry, 2'000'000 gold prize
There is no difference in the fighting based on tier. It is simply a matter of how philanthropic you feel, and how big of a prize you'd like the chance to earn. Multiple attempts are both welcomed and encouraged to round up more money for helping newbies in Haven.
The Challenge:
The challenge is relatively simple. We will fight as normal, allowed to use all the tools available to any roleplayer - the challenger need only kill the Hanse Davion character in under 10 minutes time. If Hanse survives the 10 minutes, the challenger loses. If Hanse kills you during the challenge, again you lose. The challenge will take place in an arena / area of reasonable size, the kind found in the Vesper Ironman or Trinsic fight-night tournaments.
You, the challenging mage, are free to use the template, equipment, consumables and tactics that are available to you within the standard rules of engagement. I, in turn will be doing the same.
The only exception to this is tamer mages
as trained pets with a bit of luck are capable of winning a fight vs 5x120 dexers on their own in an enclosed space while the tamer can just pick his nose and watch. Other forms of mage such as necro-mages, poison mages, ninjitsu mages, tank mages, alchemy mages, mystic mages, stack mages, hybrids and so forth are welcome to take their shots.
A balanced suit of armour
An assortment of swordsmanship weaponry
Enhanced Bandages
A variety of potions allowed by RoE
Orange petals and Enchanted Apples
Chivalry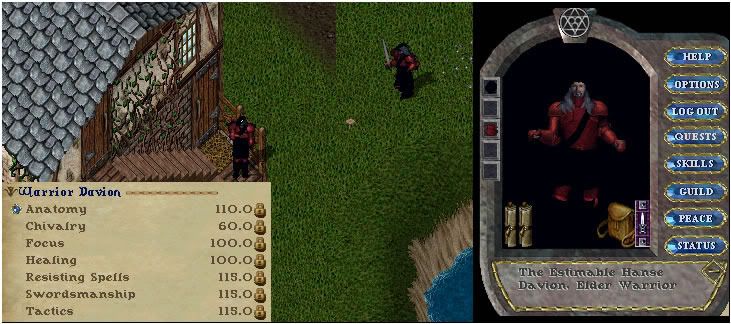 I will not however be using other newer things such as mana draughts, trinsic petals, bushido skills, spellweaving, mysticism or the (appropriately) banned, balance-breaking bugged trap boxes as Felucca scripters and such do.
How to Challenge:
Just ICQ me at 325-452-832 to arrange a challenge, and don't forget to bring the money with you in individual checks. These are simple OOC challenges which are arranged and held at a simple arena location. A series of tests if you will, which will be useful to harness results on warrior and mage performance.
Results:
Results will be posted in this, the main thread - including information on how much has been gathered for the [HLP] guild, and how attempts in which people have won or lost the challenge.
Current Statistics:
Won: 0
Lost: 43
Newbie Fund: +5,320,000gp
Special thanks to:
The Vesparian research team thanks all challengers for your participation, and for donating to the various guilds, who do fabulous work helping to ease young and returning players in Haven back into the game - the same players who often join our guilds and make us a stronger community. This challenge will run until we have collected enough results for our purposes, and the money will hopefully be donated at regular intervals to a member of the Haven Helpers or other such newbie-assisting guilds.
FAQ:

1) Isn't this test is pointless? Mages are more effective in groups than duels.
A) Yes, but the mechanics are similar in surviving in both. Mages in group warfare (as no RP guild to my knowledge uses VoIP comms) rely on mechanics such as paralysis which clearly mark out a target for other mages to sync on. Moreover many templates depend on the ability to keep you frozen / controlled in order to to win. A common misconception is that mages are more powerful than warriors because of this. This is mostly a demonstration that this is patently untrue as the Magic Resist skill completely nullifies this form of targetting, reducing mages to random pot-shotting in many cases. Special challenges involving teams of mages against a team of my warriors can be arranged if necessary to illustrate this.
2) Where does the money go?
A) It goes to the newbies and young folk of UO. Most of the money goes to places like the HLP guild run by Paidric which does good work in Haven. Other times it goes to groups like RAA who are equally prone to handing out help for young players.
3) You stole my cupcake!
A) Yes, and it was good.