I've been working on a Home Grown Program to give me a Quick Reference that combines the functions of all the Better Web Based Calculators and Utilities into one Package that is
NOT
browser or Browser Based, meaning it's an Application that you Install on your PC that contains the Functions of Utilities that require Internet Access to preform their Tasks. I'm also not a fan of Flash based applications so I'm looking for a cleaner more functional Design.
I've got a Good Start on a Few Things and Wanted to Share and ask for some Feedback on what You'd like to see included so far, bear in mind this is still a work in progress especially since I just started tinkering with VB.NET like 2-3 days ago.
Here's a Screen Shot of the Splash Screen I set up for when it's Loading. This is running in Debug mode you can see the IDE for Visual Basic 2008 Express Edition running the Back ground.
Here's a Picture of what it looks like when it finally Loads up.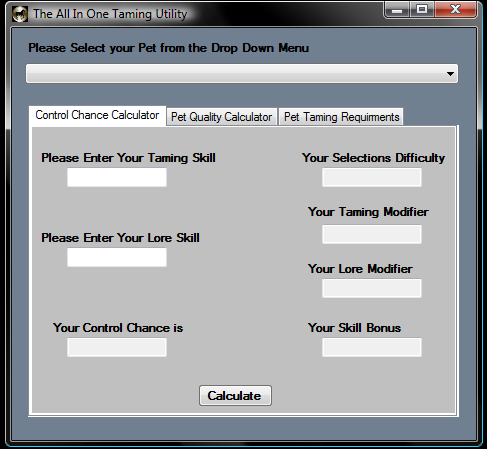 So Far only the functions of the Control Chance Calculator and the Pet Taming Requirement Tabs are working.
If you select a Creature from the Drop Down box at the top it automatically enters the Selected creatures information into all the Tabs or will once I get the Pet Quality Calculator set up.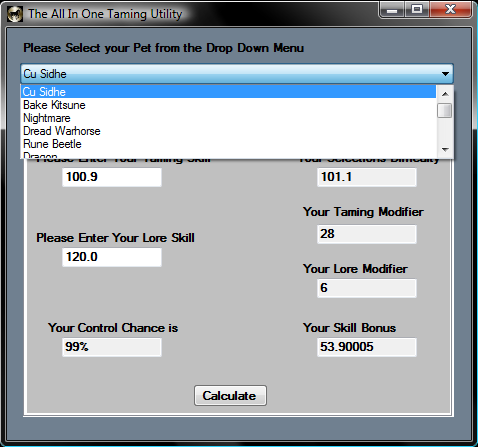 In This Screen Shot I'd entered my Taming and Lore Skill in the Proper Boxes, selected Cu Sidhe and it entered the Taming Difficulty for me. When I hit the Calculate Button it displays my Control Chance my Skill Bonus and the Modifers Used based on my Skills that help determine my Skill Bonus (6 ,14, or 28 depending)
If I was to go to the Pet Taming Requirements Tab it would show me the Required Skill for a Fresh Tame, 1 Time Pre-Tame and a 2 Time Pre-Tame, without having to reselect the creature I'm intersted in.
Right not It's still Kinda rough I'm closing up some Loopholes that allows a person to easily Crash the Program before I finish out the Last Tab and complete the Entries for Tamable Animals (Monsters are Done). Since I know I've still got a bit to go before this is complete I'd like to Hear what folks would like to see added to it.
A Bit more Info on this though I doesn't Communicate gather from or send to the Client any Information. This is strictly a Time saving Device since One could easily switch between the Client window and this to access the Utility without having to go back and forth with a web browser to 2-3 sites. It will require the 3.5 .NET framework to install and run properly but I've already done a build for testing here at home and it's set up to Download and Install the 3.5 Framework from Microsofts site without any further hassle to the end user.