I've often found that I am inspired by reading about the events and clever ideas other roleplayers have used in-game. To that end, I thought I'd start a thread to share some ideas and props that I've used in events. My hope is that others will post here as well and contribute their own clever ideas.
To begin, I thought I'd start with something simple and easy that I use and that's a bag dyed true black. One use for these dyed bagballs are as a hole in the ground like so: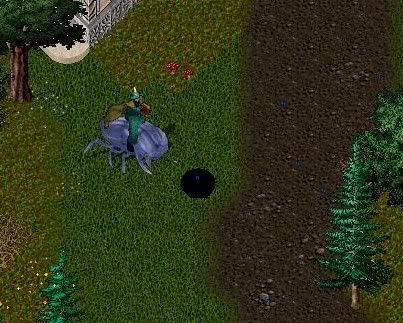 I've used it to represent a shallow grave where I placed the remains of an unknown adventure (obtained from Ant Lions) within. I've also used it in the wild to represent holes dug at an archaeological dig site, laying shovels and picks in the vicinity as dressing. Within the bagballs, I placed vases and statues which represented the artifacts that were being unearthed.
In other events, I use the dyed bagballs to represent a hole in a dungeon which leads to another area. There was an event I ran where the players had to journey to the lichewoods and Solen Hives south of Yew. The stories goes that the liches were emerging from underground ruins in the area and that a passage to these ruins could be found in the Solen Hive nearby. The players were required to befriend the Solen and thereafter, I had a character I was roleplaying as a Solen lead them to the passageway to the liche ruins, stating that the liches protected it with some magic that would have to be overcome in order to pass.
The passage was a bagball which contained a rune within. The players would have to recall off the rune in order to pass through the barrier the liches had installed. The rune was marked for a corner in the licherooms in Covetous, though the players roleplayed that they were actually ruins beneath the lichewoods.
I've also used bagballs to represent cave walls as shown below.
It might not be readily apparent where the bagball is from this shot, but I post it to show how it blends in. The bagball is located here: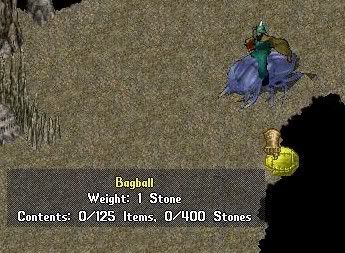 One could place hidden treasure chests or other props within, representing these treasures being buried underneath loose stones.