The Tonkaweya Tribe on Chesapeake is currently looking for anyone who currently plays a savage or those interested in playing one.
The Tonkaweya Tribe is located in PaxOku City (Homare-Jima Moongate, Chesapeake Shard.)
The Tribe is open for anyone to join who wishes to Roleplay a Savage. Any found to be a disruptive or wishing to damage or hurt the tribe in any way will be dismissed immediately.
The Tribe is pure RP and never goes out of character in public.
We do have a few rules but they are simple to keep the Tribe as real as possible. The Tribe also incorporated the Savage Look of Ultima Online but added its own details so they are able to have a fighting chance against the Orcs on the shard.
(Please note we will give 150% to work with you on outfits and how to roleplay. If you show us the will to learn we wont turn you away. The Tribe is not an elite Rp group but they do have restrictions.)
Rules and Dress Code
Female/Male Outfits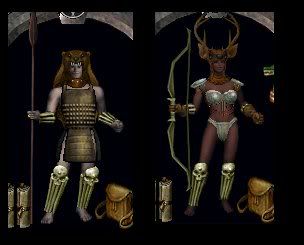 Males-
Head-(Bear, Deer or Tribe Mask)
Neck-(Leather, Studded or Dark Plate gorget)
Chest-(Studded, Leather Do or Nothing)
Arms-(Bone)
Legs-(Bone)
Hands-(Leather or Studded)
Feet-(None)
Clothing-(None)
Back (Quiver for Archers Only. Fur Cloak for Mages Only)
*Head Exception for Elves. Elves may wear any helm that shows as a band around their head.*
Female-
Head-(Bear, Deer or Tribe Mask)
Neck-(Leather, Studded or Dark Plate gorget)
Chest-(Leather Or Studded Bustier, (F)Leather armor, Studded Armor Or Nothing)
Arms-(Bone)
Legs-(Bone)
Hands-(Leather or Studded)
Feet-(None)
Clothing-(None)
Back (Quiver for Archers Only, Fur Cloak for Mages Only)
Skin- Any color you wish
Hair- None or Topnot
Weapons- (Any)
Mount- (Ridgeback only)
**Slaves and Workforce May Ride Llamas**
Ranks
Kanza ("wind people")
Mages/Necromancer/
Attikamekw ("whitefish people")
Great Warriors 1xGm
Asakiwaki ("yellow earth people")
Normal Warriors 0x Gm
Meskwaki ("red earth people")
Workers
Sluve or Slave
(Mages and Necromancers are the highest and smartest Tribe members. Our Savages believe they know all since they can move objects and shoot fire from their hands. Below them are the strongest warriors, then the weak, then the workers and the Slave is the lowest.)
The Fort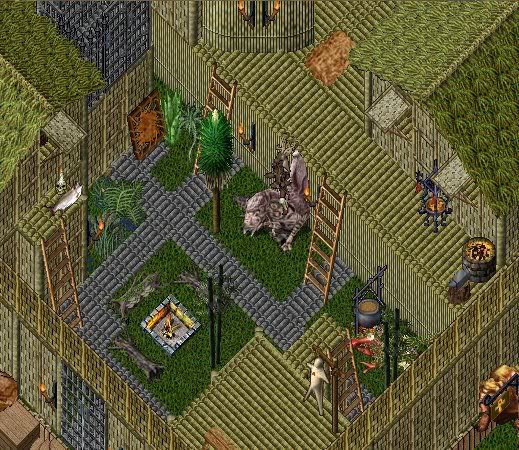 Non-Savage Visitors
Example: Winfield, Angelica, Neira, Bam Bam, Kayi etc etc
Are welcome to enter the fort unless told other wise. Anyone* visiting the fort will not be attacked. Savages may become hostile should you purposely offend them or threaten them in anyway. Should a savage ask you to leave you may battle them to stay if you wish.
*Any orc will be attacked should they enter the Savage Fort.
*Anyone who is at the time an enemy of the Savages will be attacked should they enter the Savage Fort.
(Should John Duke throw snowballs at the savages from outside the fort they will come and Kill him.)
Ka-Har! Rules
-Ka-Har! may be initiated between Savages.
-Permission must be given for a savage to initiate Ka-Har! with someone who is not a Savage.
-Anyone may initiate Ka-Har! with a savage without warning.
Ka-Har! is yelled when one savage wants something another savage or person has.
The only way you may yell Ka-Har! is if they are showing off the item.
*Shows off new Hat*
Quick Step Example
A & B
1. A.*Shows off New Hat*
2. B. *Pulls on new Hat*
3 A. Nu! or No! or Nub!
4.B. Ka-Har!
5. Person B is attacking you.
You may beat the savage to death. If the Savage runs off screen they are considered the loser. Whichever Savage wins will be given the item. No one may Challenge for the item if it was already battled over.
(Items battled over can only be "Worthless Items")
Such as:
Clothing
Lanterns
Crappy weapons
Crappy Armor
Jewels
Food
Drinks
Animal
Slave
So you cant battle someone for their Hunters Headdress or Spirit of the Totem.
Language
Full English- Able to speak normal English
(Mostly Mages and necros would do this.)
Broken English- Saying words incorrectly while mixing up vowels. Savages would say words/write them in game like they sound.
Mute- Uses emotes to speak
*Points at Stew then Points at Self*
Meaning they want soup or give them soup.
Attacking
You must respect all roleplayers at all times. We are in an alliance and you cant just go around trying to kill the Mayor or something like that. If you wish to battle someone please Party them first.
As for you being attacked expect it wherever whenever but they will still party you for consent.
As stated before attacking Orcs freely can be done in the fort. Outside of the fort make sure its consented.
Savages will not battle Orcs at the Statehood or City Meetings. Savages should also be respectful of DMs running a storyline and not disrupt it by attacking an Orc. That goes for Weddings, Adventures, Quests etc. Just be respectful.
If you are interested in joining us on Chesapeake please post below here or you can PM me. If you would be making a fresh character since you dont play Chesapeake let us know so we can get ya from haven, friend you to the fort, get you armor and some spending gold for insurance.
Training your character is 50% and 50% us or 100% you whichever you prefer. The Tribe is responsible for helping you training skills that you need a second player for Example (Over 80 healing). We will supply Golems and posion weapons and also Arrow if needed.
The Tribe will also setup a day during the week for training. So you do not have to train your character alone. PaxOku is perfect for training since it has Gamans. Gamans can train all fighting skills, Tactics, parry, Anatomy to atlest 70skill and as high as 90.
We use the horns and leather from gamans and sell them on a vendor to raise funds to make you bone armor from barbed Kits.
We hope to hear from you if you are at all interested. If you get stuck on names I figured id give you a list of a few names already in the Tribe.
Sinhi
Sinthe
Zinth
Ta'inth
Niva the savage
Jexa
Vipe
Roksolana
Sai'ge