So I told you about the first quest well I cant remember the entire second quest. ill give ya a jist and I skiped something so ill go back
Go to the Farm house in Brit
open the dresser read the Book
WATCH OUT FOR THE TRAPS!!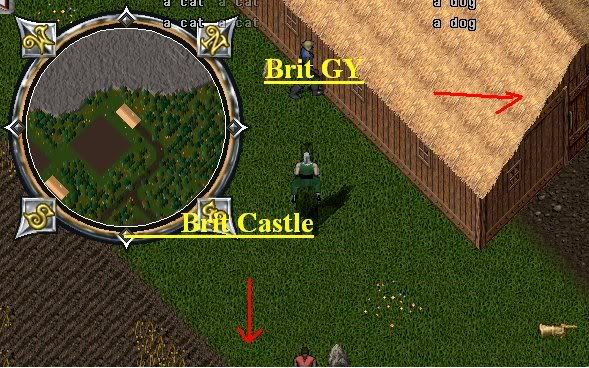 Grab a shovel go to the GY and where the banners are the gravestone by the water start digging
You get a cool box with cool books and such
Then go to brit Sewers Read the book in the swamp in the back to the sewer towards Illish.
Go to Minoc and go to the Minoc illish entrance. Once in Illish by the Exit you will see another book read that.
Then go to the Etheral Fortress and you wil see a dark deed with something written like Let me in or something.
Say that and you drop down you have three roosm to enter passwords are:
Painless Operation
Safety in numbers
Futile
Concerto
you will see a guy and you say help or rescue
He gives ya a scroll. Take it to the Big warriors guild by the smith shop West of West Brit bank. That big building with the corner falling into the water.
Guy is on top hand it to him he gives you
25,000 spring cleanup points
Now if I remember correct go to Illish Honesty
and enter the Wisp dungeon go all the way to the evil mages yada yada. In the back is Dark Wisp statues in a row leading to an alter at the alter say this
martoovehlkxrisspince
You drop down then go to the middle of the Abbys dudes room and say
eored
Once defeate melissa you may get a Cloak saying Melissas Cloak +5% Fire resist, A white peral Necklace <--which is cool and some peerless loot.
Now enjoy the spoiler.
We had a blast and we took six hours a big group of us. Was one fun adventure. But im sure most of you just want to skip to the items hehe
Should anyone be interested the Red dude will train you in EVERY SINGLE SKILL!!! WOHO!