As I was sitting around in Cove on Origin, I happened to come across this group of new inhabitants...
The Vanguard also had a few pieces of interesting equipment on them...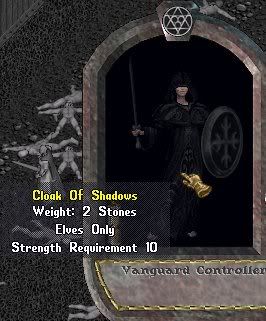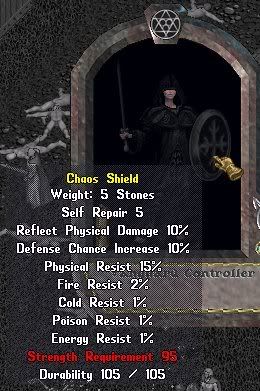 Along with the Vanguard Controllers, there were sightings of...
Liches
Dark Wisps
Shadow Iron Elementals
Dark Wolves
Daemons
Lich Lords
Dark Guardians
Zombies
Brigands
Restless Souls
Nightmares
The Vanguard also have some interesting things to say, the sayings I've heard so far are...
Legum Servi Sumus
Beware I live...
Bellum Omnium In Omnes
Bellum letale
Libertatum Est Vendere
Bellum...
Bella Horrida
Magnus acervus erit
I am Vanguard!
Aut Viam Invenium
I hunger!
Non Est Disputandum
Beware Coward!
Run, Coward!
Dulce Bellum!
Run!
Since I was not combat suited, I couldn't check the Vanguards combat strength, what they dropped upon death, or anything about the new mounts they rode. The cities of Nujelm, Cove and Delucia seem to be the only ones under attack, however they are being attacked in both Trammel and Felucca.