After the Town Hall gathering broke up, a few people stuck around to enjoy the games at Dave & Busters while others headed home. I stuck around long enough to bug the DAoC guys for a few minutes, and of course I had to grab one of their posters too lol. Since it was already getting close to 5pm, a few of us decided to head straight down to the after party/anniversary party being held at Mother Egan's Irish Pub down at the "quiet" end of 6th street. Like anywhere in Austin is really quiet when the Longhorn's are playing in town.
We decided to actually let our hair down and stop working for the night to celebrate 10 huge years of UO. From what I was told, no online game as survived that long. So obviously someone is doing something right somewhere. We spent a couple hours chatting about the game and all the memories we had. The Mayor of PaxLair was showing us that there are other ways to kill an animal than just in a game. He was killing Woodchucks most the night, which for those of you don't know tastes like apple cider with a really good kick. I tried one and they don't taste too bad. Deadeye and the Governor of PaxLair made it thier sole mission of the night to try one of every beer in the joint.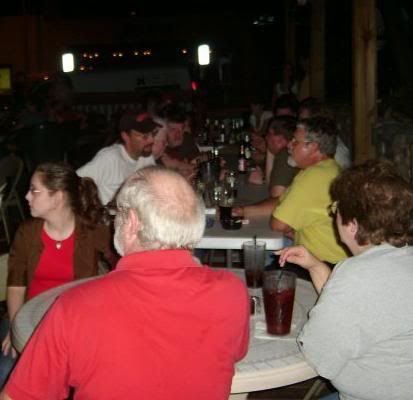 About half way through the evening, I went and bought a round of shots for everyone at the table. Of course we were responsible and the designated drivers skipped the shots and poor JoPam was the only one underage. So someone drank up the shots that were for the ones that couldn't drink. We won't mention her name here lol. We raised our glasses and had a toast to Ultima Online and their 10th Anniversary!! Way to go UO!!!!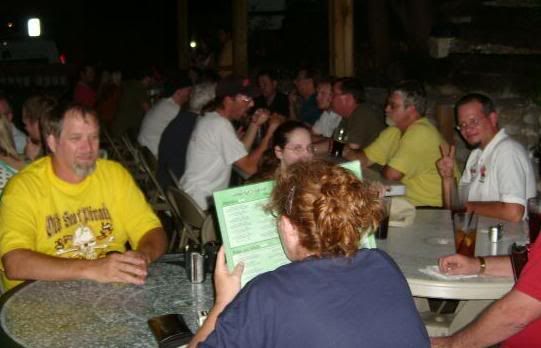 I left shortly after that. I think I was embarrassing my designated driver for the night lol. From what I was told there were a few people that decided to go down to the noisy end of 6th street and try out a few of the clubs down there to continue the celebration. You could tell who hadn't been there before when they were shocked that they blocked off the entire road and there were over 20,000 people down there. Slow weekend for 6th street LOL.
Everyone was accounted for in the morning with no bumps, bruises or hangovers. So we all headed over to Opal Devine's Restaurant Bar and Pub. Nice little place in South Austin with a really terrific waiter. Everyone was exchanging "war stories" of UO and handing out cards so that we could all stay in touch with each other outside of the game. Once the food showed up though, you could have heard a pin drop.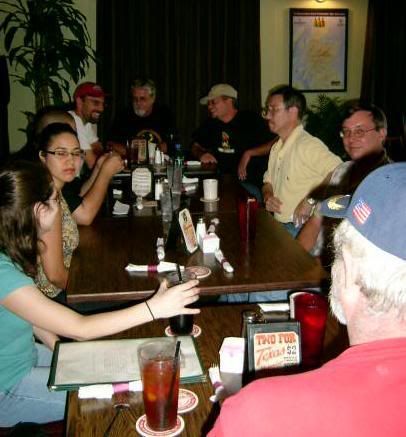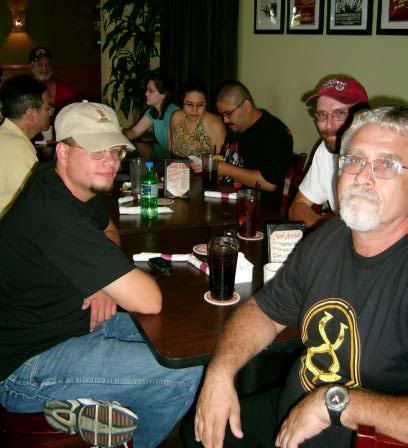 Finally, it was time for alot of our friends to leave and head for home. There were a lot of heartfelt good-byes and promises to stay in touch as they left out the door. We were down to a small little group of us including myself, Kelmo, Tide, and the UO Radio guys. We sat out on the patio listening to some live music while we were wrapping things up, which was really cool.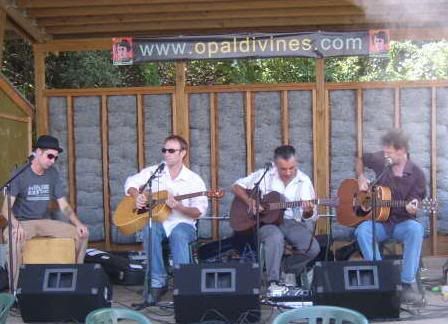 I wish I had a recording of their music for you to hear. I took some time and spoke with them during one of thier breaks. Come to find out they are actually four separate groups with the same booking agent. On Sundays they all get booked out at Opal Devine's to do a little gig without their band. From left to right in the picture is Matt -
http://matttheelectrician.com/
, Nathan -
http://nathanhamilton.com/
, Michael -
http://michaelfracasso.com/
and Beaver Nelson who I didn't get a website from. You might want to check them out sometime.
In a final summary, it was a really great weekend. We all met alot of new people and made a bunch of new friends. It was a wonderful chance to get to see the person behind the pixels and learn more about each other. A chance to terrorize the designers and see what they have in store for us next. I think everyone there walked out with a lot of great memories and stories to tell their friends. I had an awesome time out there, getting you all the information and pictures I could come up with. This was a great event to cover as my last news report for Stratics before I was offered the job as News Manager at UORadio. I will definately never forget this weekend or anyone involved in it.