After a very late night for everyone on Friday, people were a little slow getting out of bed. Once everyone finally got up we decided to go to IHOP and drive the poor server nuts. Which by the way, we did a really good job at when it came time to split up the check. Of course it took a few minutes for all of us to meet up at the same IHOP in the beginning since we didnt have UOAM to follow the dots of the party members.
After the relaxing breakfast and all the chatter about what we thought would happen at the actual EA Town Hall event, we headed out. Most the players headed back to the hotel to pass some time. At the same time, the radio team and myself headed over to D&B to start setting up to be able to bring full live video and audio. D&B had a very nice set up for everyone to enjoy the show.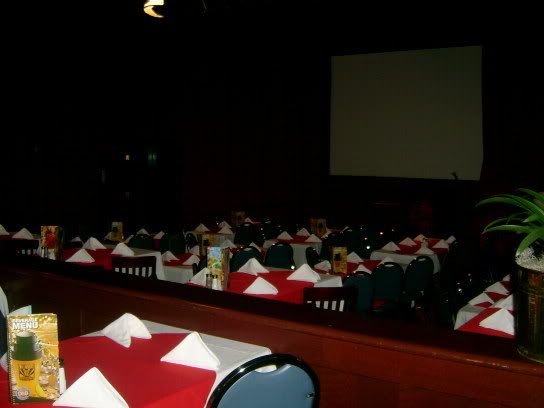 A few people started showing up and started chatting to get to know each other. Maybe planning a few questions to pop on the Developers when they finally would show up. By the time this officially started we had a huge attendance going on. I may have missed a few people and I am sorry, but I tried to make sure to acknowledge everyone that took the time to show up.
Atlantic
- Dragonslayer, Sorceror Keven, Tazar, Roryek, Amelia, Joshua, Sparo and Amanda Rekonwith.
Baja
- Scarsmi and Leira.
Chesapeake
- Marcus Ludwig, Sebrina, Justic, Zak, XZXtoopuXZX, Luna, Schitzo, Viceroy, Mayor Ga'Kuct and Governor Winfield of PaxLair.
Great Lakes
- Altus, Nono, Snorlax, Zapzap, Debora II, Princess Amara and Heather.
Lake Austin
- Slacktard, ParsifalKort Defallo, Xcentric, and Angelica.
Lake Superior
- Technostu, Gu'el, Cuachamer, Mystique and Garibold.
Legends
- Janelle, Deseption and Einstein.
Napa Valley
- Aes Sedai Origin - Hawk and Sharween.
Siege Perilous
- Kelmo, Tide, Obeta, Arch Angel, Yucko.
Sonoma
- Deadeye, Moldy Cheese and Hortaru Chan. Again, I am sorry if I missed anyone in the list. I really tried to keep up lol.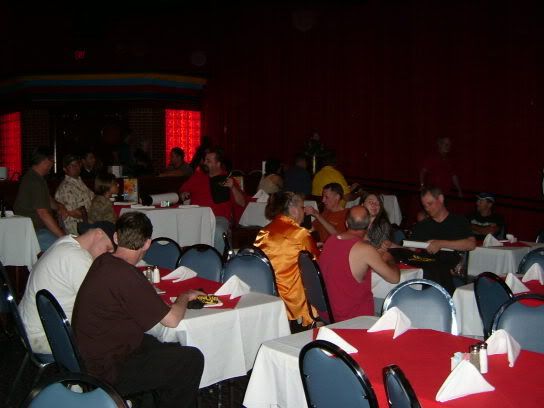 First order of business was to meet the Community Coordinator Jeremy Dalberg, Lead Designer Patrick "Leurocian" Malott, and Lead Designer Tim "Draconi" Cotten.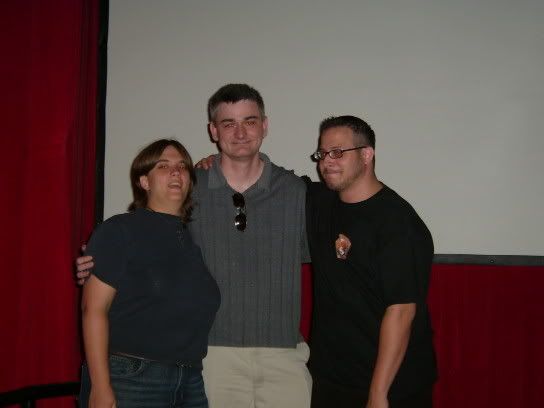 Draconi talked us through a very cute presentation of the first version of UO. We found out that it couldn't handle anything other than very basic and simple commands. Then we started hearing a little about the game itself and how Draconi was the one that thought of ways to blow everything up all the way down to the little Haven incident. He even likes blowing things up so much that he thought of a way for us to blow ourselves up. BLACKROCK!! We just have to love him for that one.
They talked a little about KR. Things like how they are working on the interface still, how UOA and UOAM will work with it, and how they are working on making KR work with 2D. Then we got on the topic of the new changes to resources. Come to find out there is a reason behind what they did. First to make the more rare resources valuable like they use to be. ie: Valorite ore. Part of the change in the resources is for something planned in the future, but they couldn't get into details on that as of yet. Some of the resources may be used in a skill that may be possible later that will allow you to possibly select item properties to make items more useful to you hypothetically. LOL Not quite sure exactly what that meant, but I hope it means something good for the future.
Then a surprise happened. Richard Garriott showed up!!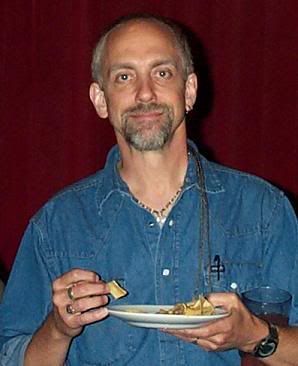 The original man behind UO. He got up on stage, introduced himself and told us how happy he was to be there, then offered to stick around to answer questions and talk to people. Very quick and polite. He wasn't going to get away that easy though. Little did he know that before the end of the night he would be sitting down with UO Radio and myself to do a recorded interview which you can hear
here.
After that, the Designers and Jeremy mingled with the crowd to answer some questions, get some food and get trapped in the corners by the reporter lol. We did find out that the work doesn't stop when they clock out. Leurocian actually comes up with ideas at home and tests them out. BTW We should mention here that Leurocian and his wife are expecting a baby!!!!! We questioned him about the spawns and trying to set up a way for a "dungeon" to know how many players are in there. So if you are a solo player you aren't attacked by 20 things at once. A way for the dungeon to adjust to the amount of players in the area. His response, " It is something we definately have talked about". Now if that means they will try to do something like that for the people who enjoy solo play, we really didn't get an answer.
Next question for him was a long one. They have spent all this time and monetary resources on KR. Which in alot of ways seems like UO trying to keep up with WoW in graphics etc. If that was what people were looking for, they would have gone to WoW. Why not instead of putting out an upgrade or new version of the game, didn't they put that time and money into fixing the "bugs" and "complaints" that people have been upset about for years? Not the bugs that people are just now bringing up, but the ones that people have been upset over for four or five years that nothing has been done about. Shouldn't they be taking care of the people that have stuck around forever first and foremost and make them feel like the community matters? His response, " We started working out the bugs and complaints about the PvP aspect with John. There are other areas that we are working on, but we can only get to maybe 25 or 30 different things in a certain amount of time. We know there is alot more to do, we are trying to get through more of the bugs. We only get to see certain things in KR, but there are a lot of new things in the works in crafting. Where you can set different properties or intensities on craftable items which is something the players have been asking for, for a very long time". So it seems like maybe they do listen to us and are trying to fix some things in the game. I guess we all just need to be patient and hang in there a little longer. Check out this link to hear the joint interview with Leurocian.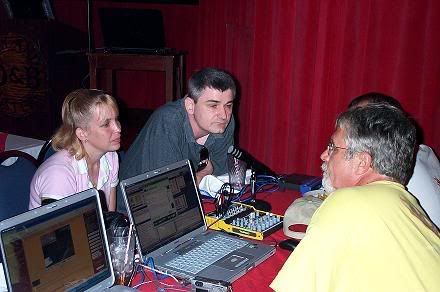 After all the interviews and questions were done, there was a very touching and heartfelt presentation done by Governor Winfield of PaxLair on Chesapeake.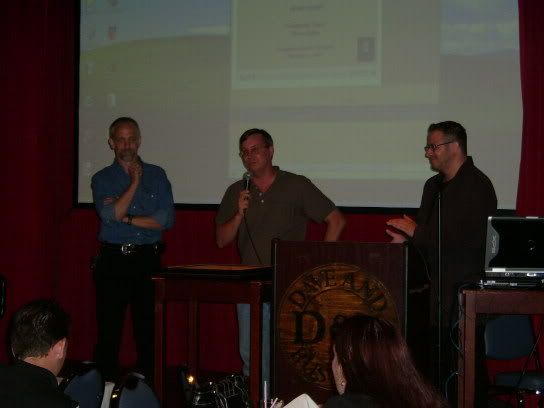 They have a player run town that has been around for a very long time. There was a speech presented with a slide show about the town that you can see at
http://www.paxlair.c...2882&Itemid=175
. It touched alot of people there. Especially when he presented Lord British with a framed picture of the town of PaxLair.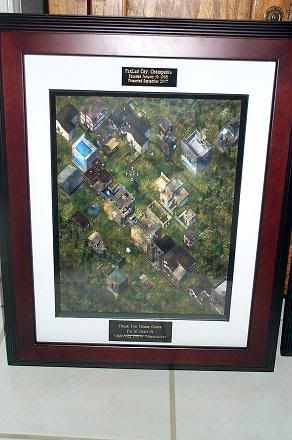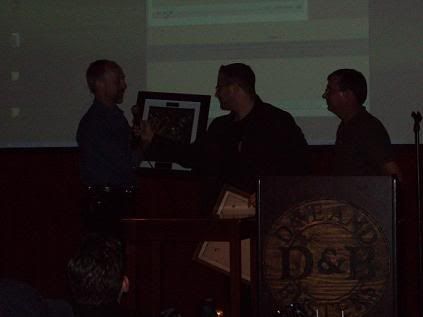 Then the Governor presented Draconi with another framed photo for Ultima Online. It was a very emotional time for Lord British and Draconi. I really think it touched everyone there.
That was about the end of the Town Hall Meeting as the Dark Age of Camelot guys started showing up. We started clearing out and letting them get set up. All in all it was a fun afternoon with a few of the questions actually answered in ways that people could understand. I had a blast and I think alot of the other people there enjoyed it as well. Stay tuned for all the after party information including the good-byes on Sunday.