First and Foremost, I would like to thank UO Radio for all the entertainment they provided for this weekend. and Heather for planning all the events for the Austin meet up. Deadeye and Viceroy definately made sure we were entertained for all three days.
The UO Radio Team!!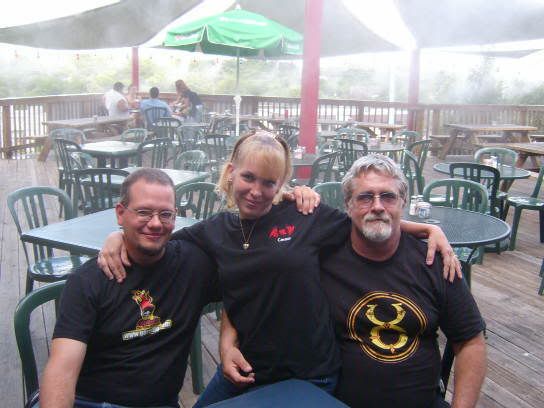 No one could put it any better then our own Seige Moderator, Kelmo..... "UO Radio helped to make this one of the most memorable weekends ever. The people from UO that showed up were so passionate about the game." Another Seige player, Tide gave his opinion of the weekend as well. "It was a great weekend and we all had a lot of fun. Even with all the Trammies, we had a blast." Even though he is a Seige/PvP player it was said with no disrespect intended.
The first day there, after meeting up in the hotel lobby, we all headed over to BB Rover's Cafe and Pub. Everyone spent a little time getting to know each other and chat about the game while the UO Radio guys were getting all the equipment set up.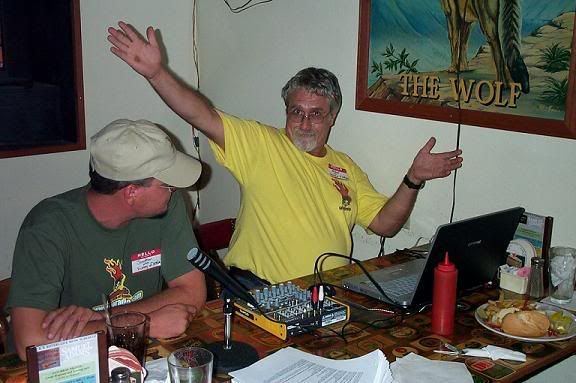 In attendance the first night we had a couple of pretty famous people inside the game of UO. Mayor Ga'kuct and Governor Winfield of PaxLair on the Chessy Shard. They run an entire player run community that is exactly like a real town.
We had a few members of the stratics staff there to hand out bans and warnings lol. Kelmo moderator/player from Seige, Tazar moderator/player from Atlantic, and myself Moderator/LA Shard News Manager/player from Lake Austin.
Also in attendance was Sorceror Kevin - Atlantic, Dragon Slayer - Atlantic, Hotaru-Chan - Sonoma, Hawk and Sharween - Origin, Heather - Great Lakes, Aes Sedai - Napa Valley.
After UO Radio got all their equipment set up, Viceroy and Deadeye started doing their interviews of all the players that were in attendance. Starting with Heather who was the major player in all the events over the weekend. Without her, we only would have had the EA Town Hall. So THANKS BUNCHES HEATHER!!! The team from the radio station recorded all the interviews done with the players which you can listen to here.
You will hear views on KR, interesting facts about UO and the changes from the beginning of the game, information on PaxLair, opinions from people like myself, Kelmo, Sharween and so many more. Be sure to check it out and see if maybe some of your questions about the history of the game are finally answered!
Right before we wrapped up the night to leave and get some sleep, guess who showed up? None other then our own Draconi!
Poor guy never knew what was gonna hit him when he met me lol. That interview was off the record though since it wasn't the actual Town Hall meeting, so be sure to read up on the events that happened at the actual EA Town Hall meeting to hear what he has to say.
All in all it was a very fun and exciting night with lots of conversation, interesting information on the game and actual player's views and lots of beer. Wish you all could have been there and check back shortly for the report on the actual EA Town Hall meeting. We actually got an interview with the original founder/creator of Ultima/Origin
Lord British
(aka Richard Garriott). There will be a link to hear that interview in its entirety as well.
Angelica Lake Austin Shard News Manager/Moderator